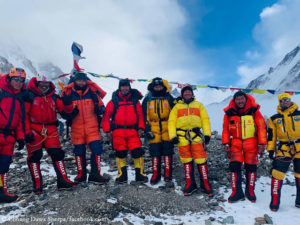 The other climbers who remained in the base camp after the first winter ascent of K2 are champing at the bit. In the next few days, the wind, which had recently made an ascent impossible, is expected to subside. For next Friday, meteorologists expect an almost windless day, as if made for a summit push. "This might be the last fair weather window until the February snowfall will start," Chhang Dawa Sherpa, expedition leader of the Nepalese operator Seven Summit Treks, wrote today from base camp.
According to him, a team of eight Sherpas set out today to repair the fixed ropes on the route via the Southeast Ridge, carry oxygen bottles up the mountain and check whether the equipment previously deposited in the high camps had not been blown away by the storm. Tomorrow, Tuesday, the summit aspirants would then set off. The coming Friday (5 February) will be the only possible summit day, Chhang Dawa said.
If necessary without mask
Most likely, Icelander John Snorri Sigurjonsson and the Pakistani father-son duo Muhammad and Sajid Ali Sadpara will also set off tomorrow on their second summit attempt. On their first one, they had reached an altitude of around 6,800 meters a week ago before strong high-altitude winds had stopped them. During the storm, their breathing masks had been blown off the mountain, only one of which they had recovered. If necessary, they would ascend without bottled oxygen, John Snorri told explorersweb.com. They were acclimatized well enough for that, he said. The trio was the first winter team to arrive at K2 in December.
"Maybe we are lucky"
For sure without breathing mask want to ascend the Chilean Juan Pablo Mohr and the South Tyrolean Tamara Lunger. "Maybe we are lucky," the 34-year-old let it be known yesterday on social media, "and in the next few days the opportunity may open up to return to the mountain and who knows maybe to try the summit."
On 16 January, a ten-member team of Nepalese climbers had succeeded in the first winter ascent of the 8,611-meter-high mountain. According to his own words, Nirmal Purja did not use bottled oxygen, while the other nine climbers did.