Relief on the eight-thousander Annapurna: Wui Kin Chin from Malaysia, who was missing after summiting the 8091-meter-high mountain on Tuesday, is alive. A Nepalese rescue team found the 49-year-old mountaineer at an altitude of 7,500 meters and now takes him further down.  Their goal is to reach Camp 3 at 6,500 meters. From there the Malaysian is to be flown out by helicopter tomorrow.
"He is almost okay"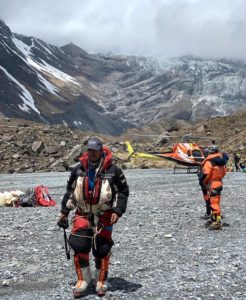 From the helicopter, Wui Kin Chin had been discovered on the route in the morning. He had waved to the pilots. Thereupon Nirmal Purja (who wants to scale all 14 eight-thousanders in seven months), Mingma David Sherpa, Galgen Sherpa and Gesman Tamang had been flown to Camp 3. From there they ascended in strong winds. Mingma Sherpa, head of the operator "Seven Summit Treks", told "explorersweb.com" that the mountaineer from Malaysia is "almost okay" according to the rescuers. He can apparently descend on his own.
Wui Kin Chin was one of 32 climbers who, according to the expedition operators, had reached the highest point of Annapurna on Tuesday. It is unclear why he was left behind during the descent and apparently nobody missed him at first. The anaesthetist from Malaysia had scaled the eight-thousander Manaslu in fall 2017 and Mount Everest in spring 2018.