Many call it the "little miracle" on Annapurna. For more than 43 hours, Malaysian mountaineer Wui Kin Chin survived at an altitude of 7,500 meters – left alone, without a tent, without bottled oxygen, without water. On Thursday, he was discovered by helicopter during a search flight. A four-man Nepalese rescue team – Nirmal Purja, Mingma David Sherpa, Galgen Sherpa and Gesman Tamang – was dropped at Camp 3 at 6,500 meters, climbed up to Chin in strong winds, provided first aid and then took him down to Camp 3 until late in the night.
From there, the 49-year-old was flown yesterday to a hospital in Kathmandu after a stopover at base camp. According to the doctors, he arrived at the hospital in a critical condition, with low heart rate and body temperature and frostbite on his hands and feet. The fact that he is still alive is due to the great performance of the rescue team, including the helicopter pilots of "Simrik Air".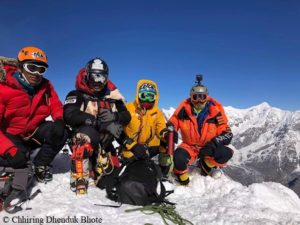 Chin was reported missing on Wednesday. The Malaysian had been one of 32 climbers who had reached the summit of Annapurna at 8,091 meters on Tuesday. Among them were 17 Climbing Sherpas. So first I asked myself two questions: How could it happen that he was left behind alone? Did nobody care about him? I contacted the expedition operator "Seven Summit Treks", whose clients included Chin.
"The Sherpa stayed with Chin for a long time"
Chin had had problems already on the ascent, board director Chhang Dawa Sherpa replied: "While descending he was totally weak, not able to walk even one step. His personal Sherpa tried a lot to descend together with him, but he couldn't." According to Dawa's words, the Sherpa stayed with Chin for a long time. He, too, was in a bad state and suffered from frostbite. When the bottled oxygen ran out, the Sherpa decided to descend to the base camp to search for help. According to still unconfirmed reports, the Sherpa fell during the descent and injured his spine. It remains to be hoped that he will not suffer any permanent damage.
Open questions
Chhang Dawa Sherpa wrote me that he wants to talk to Wui Kin Chin at the hospital about the summit day as soon as the Malaysian is better. Many questions remain unanswered – such as these: Why did Chin climb to the highest point and no one made him turn back when he was already feeling bad during the ascent? Did none of the other 30 climbers notice that Chin got into trouble on the descent? Why didn't the Sherpa, who stayed with his client, have a radio with him to sound the alarm earlier?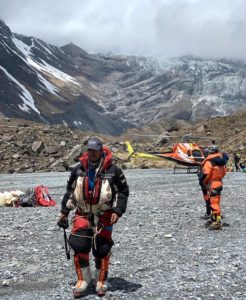 Update 10.15 pm: Nirmal Purja, one of the rescuers, makes serious accusations against "Global Rescue", the rescue compan Chin was a member of. The dramatic worsening of the situation, according to "Nims" on Facebook, could have been avoided if the company had acted faster: "After knowing that Dr Chin was missing, I held my team and some of the strongest members on the expedition for the rescue of Dr Chin at Camp 4. We were waiting for oxygen to get dropped off at us by helicopter so we could go start searching for him on the mountain. (This is all what his insurance company had to do , just drop six bottles of oxygen at Camp 4 where I was on standby with my rescue team.) I was told that the rescue company denied the emergency help and I couldn't hold my team any longer at the extreme altitude risking their life."