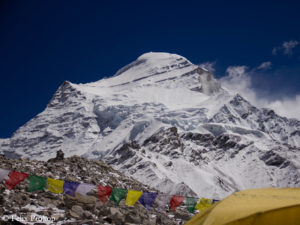 The weather gods remain in favor of the commercial expedition teams this fall. After numerous summit successes on Manaslu and some on Dhaulagiri – both eight-thousanders are located in western Nepal – the first ascents of the season of Cho Oyu are also reported from Tibet today. Operator Imagine Nepal announced that eight team members led by company head Mingma Gyalje Sherpa reached thesummit of the sixth-highest mountain on earth at 8,188 meters, "just five days after crossing the Tibet border, as they were well acclimatized from their Manaslu expedition"
The Nepalese operator Climbalaya also announced that five team members had reached the summit of Cho Oyu – including Dawa Yangzum Sherpa. For the renowned Nepalese mountain guide it was the 13th eight-thousander. The 33-year-old thus has a good chance of becoming Nepal's first woman to scale all 14 eight-thousanders this fall. Cho Oyu and Shishapangma – this eight-thousander lies entirely on Tibetan ground – have reopened after three fall seasons in which they were closed to foreign expeditions because of COVID-19.
P.S.: I already told you months ago why I no longer participate in the debate about real or supposed "mountain records", nor will I chase after each of these numbers. However, I mention Dawa Yangzum's climb because of the political significance of her life's work. She has already done pioneering work as a mountain guide in her home country, not only for women's mountaineering, but also for Nepalese women as a whole.
Update 3 October: Nirmal Purja also reached the summit of Cho Oyu with his Elite Exped team on Monday. In his own words, it was his 13th eight-thousander without bottled oxygen. Mingma Gyalje Sherpa claims the same for himself. Both are still missing Shishapangma in their collections without breathing mask – that could change next weekend.