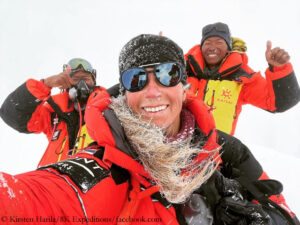 From the 8,080-meter-high Gasherbrum I in the Karakoram, summit successes were reported yesterday and today via the normal route. Already on Thursday, according to the operator 8K Expeditions, the Nepalese mountain guides Dawa Ongju Sherpa and Pasdawa Sherpa with their Norwegian client Kristin Harila reached the summit of the eleventh highest mountain on earth – with bottled oxygen.
For the trio it was already the eleventh eight-thousander summit since the end of April. Now only Manaslu in Nepal as well as Cho Oyu and Shishapangma in Tibet are missing in their eight-thousander annual list. Whether the Sino-Tibetan authorities will open the two eight-thousanders in the upcoming fall season, however, is written in the stars. Since 2020, no foreign climbers have been allowed into Tibet because of the COVID-19 pandemic. Permits have been issued only to Chinese expeditions.
Eight-thousander climbers without Manaslu "True Summit"
According to the operator Dolma Outdoor Expedition, Nepalese Nima Gyalzen Sherpa and Ningma Dorje Tamang also stood on the summit of Gasherbrum I yesterday with their client Ko-Erh, called Grace Tseng. Nima and Grace had done without bottled oxygen, the Taiwanese for the fourth time in a row after K2, Broad Peak and Gasherbrum I, it was said. In addition, Nima completed his collection of eight-thousanders, the company informed. This includes Manaslu. However, in fall 2019 – when Sherpa and Tseng climbed the eighth highest mountain on earth – no one had reached the "True Summit". All had turned around before the very highest point.
Today, Friday, according to information from Pakistan, at least eight other climbers reached the summit of Gasherbrum I, including six from Pakistan. Sajid Sadpara, Sirbaz Khan and Sohail Sakhi did not use bottled oxygen, it said. Naila Kiani, the first Pakistani woman to scale this mountain, and Sheroze Kashif were also among the climbers – both using breathing masks. For Sheroze, who is only 20 years old, it was his ninth eight-thousander. On Manaslu in fall 2021, he had not reached the "True Summit", according to his own words. He would have to return once again to the mountain in western Nepal to make up for this, Kashif said.
For Sirbaz Khan, who once began his mountaineering career as a high altitude porter, Gasherbrum I was the eleventh eight-thousander – considering that he also did not reach the True Summit of Manaslu in 2019. Many commercial operators are now explicitly advertising their intention to lead their clients to the very highest point of Manaslu in the coming fall season in Nepal.