The first summit wave on the 8,163-meter-high Manaslu in western Nepal is rolling. According to expedition operator Seven Summit Treks, six Sherpas form the rope-fixing team reached the highest point late Thursday evening. Several dozen clients of commercial operators were said to be on their way to the summit. The Tourism Ministry in Kathmandu had issued permits for Manaslu to 171 foreign climbers from 17 teams this fall.
Fewer and fewer climbs without breathing mask
The eighth highest mountain in the world has already been scaled more than 2,000 times, about half of the summit successes were reported in the past four years. Until 2009 there was relatively little hustle and bustle on Manaslu, but since then the mountain has increasingly become a commercial "top seller" in the fall season. At the same time, according to the chronicle Himalayan Database, the proportion of those attempting Manaslu without bottled oxygen has declined.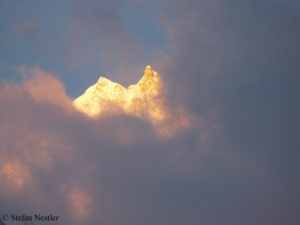 Since the first ascent in 1956, which was achieved by a Japanese team, until 2009 the rate of climbers who reached the highest point without a breathing mask was 69 percent (288 of 415 summit successes). It fell to 23 percent (402 of 1,728 summit successes) between 2010 and 2020. In the "corona fall season" 2020, none of the 56 reported summiters did without bottled oxygen. Manaslu is one of the lower eight-thousanders that can be climbed without O2. But somehow this no longer seems to fit in with the spirit of the time.
No quarantine for fully vaccinated people
Meanwhile, the government of Nepal has eased entry restrictions for those fully vaccinated against the coronavirus. Those who have been fully vaccinated for at least two weeks prior to entry do not have to undergo the previously mandatory ten-day hotel quarantine. A negative PCR test, which must not be older than 72 hours, remains mandatory for all. With the relaxation for vaccinated persons, the government wants to boost tourism, which has been hardly hit by the pandemic.