"Congratulations to all our team members for the successful ascent of Mt. Manaslu (True Summit) at around 9:40 am local time." This was announced today by Mingma Gyalje Sherpa, expedition leader and head of the Nepalese operator Imagine Nepal. He himself and all 21 other team members had reached the highest point at 8163 meters, he lets us know. Summit pictures are not yet available.
Mingma Gyalje – one of Nepali climbers who succeeded in the first winter ascent of K2 in Pakistan last January – had advertised his expedition by saying that, unlike his four Manaslu ascents to date, this time he would not settle for one of the fore-summits.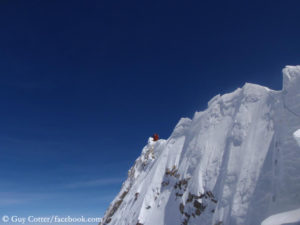 "Several climbers have claimed the summit but only few (probably less than 15 climbers) have made it to the real/main summit," the 35-year-old wrote on Facebook in June. "In the recent years, all the climbers return back from fore summit claiming the summit. Most of those climbers were unaware of the one more or real summit behind the fore summit and still climbers are unaware of the main summit. None of commercial expedition prefer taking clients to main summit because of tricky terrain."
Turn around at the fore-summit
In the past few days, some summit successes from Manaslu have already been reported. Since there was no mention of the true summit, it can be assumed that these teams – as usual – turned around at one of the fore-summits.
Two years ago, the German mountaineering chronicler Eberhard Jurgalski and others had found out after long research that only very few climbers had really reached the highest point at the very end of the ridge. At the eight-thousanders Annapurna and Dhaulagiri, too, they had proven numerous misjudgements by climbers who thought they had reached the summit, but had actually arrived at a somewhat lower point.
Jurgalski and Co. proposed keeping "elite lists" for climbers reaching the main summit and defining a "tolerance zone" of a few meters below and beside the highest point within which an eight-thousander could be considered scaled. However, a broad discussion about this had not started – perhaps also because many who had let themselves be celebrated as eight-thousander climbers feared a bad public perception.
Update 28 September: Today Mingma Gyalje Sherpa published on Facebook and Instagram a summit video: