There can be no more than one summit attempt. Jost Kobusch and Alex Txikon agree on this. Both want to climb Mount Everest without bottled oxygen this winter, but in different styles and on different routes. The German solo climber Kobusch wants to do it via the West Ridge and then through the Hornbein Couloir in the North Face to the highest point at 8,850 meters, the Spaniard Txikon with three Sherpas via the Lhotse flank and the South Col.
Kobusch has again ascended to Lho La, a pass of about 6,000 meters on the border between Nepal and Tibet, at the foot of the West Ridge. Yesterday, he reported on Facebook in "light snowfall" from Camp 1. He has rejected all alternative routes, the 27-year-old announced, sounding not very optimistic: "I will make my last and final attempt on the heavily icy route I explored last time in a 17-hour push." Before, Jost had complained about new pains in his stressed left foot.
"Inhuman job"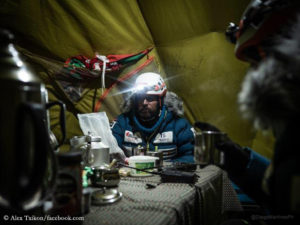 Alex Txikon's team also speaks of an imminent "last attack" on the summit. The 38-year-old Spaniard and his Nepalese companions Pechhambe Sherpa, Geljen Lama and Nurbu Sherpa had returned to base camp on Wednesday, Alex had then spoken of "very, very difficult conditions". Today he went into detail: Because of the continuous rockfall in the Lhotse flank, the quartet had tried to climb about 400 meters left of the normal route. He himself, writes Alex, had reached an altitude of 6,900 meters, Nurbu Sherpa had climbed a bit further up to about 7,000 meters. "We are doing an inhuman job," says Txikon, "and there are only four of us." Before, Alex's Spanish team mate Oscar Cardo had had to be flown out of Camp 2 because he had shown symptoms of a life-threatening high altitude cerebral edema.
Climate change sends its regards
Txikon points out the increasingly serious consequences of climate change also on Everest: "On the normal route, there is so much rockfall you would hardly think possible. In Camp 2 I spend the night in a 350-gram sleeping bag, which was unthinkable in earlier attempts. And I saw water at 6,500 meters, even though the sun only shines from 9 to 14.45."
There is rather little prospect for favorable weather on Mount Everest. Possibly there will be some days with lots of sun and little wind in the summit area in the second half of next week. "No surrender", writes Txikon. "If the weather gives us a chance, we're gonna fight for this." Nevertheless, the chances of a summit success seem rather small at the moment – both for Alex and Co. as well as for the lone fighter Jost Kobusch.
Update 22 January: Jost Kobusch continued his ascent towards the West Shoulder today, up to an altitude of almost 6,800 meters. Here is the link to his GPS tracker.
Update 24 January: According to his GPS tracker, Jost climbed up to the West Shoulder of Everest at about 7,300 meters today and then descended back to Camp 2 at about 6,800 meters.