Jost Kobusch has achieved his first stage goal. According to his GPS tracker, the 27-year-old German climber reached the 6,006-meter-high Lho La, a pass on the border between Nepal and Tibet, today. Lho La is the lowest point of Everest West Ridge, which Jost says he wants to climb on his solo winter ascent.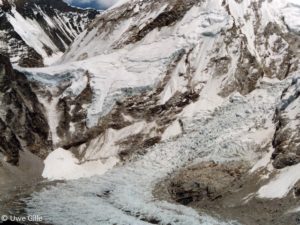 The currently "100 percent bloody cold" (Jost), but sunny weather on the highest mountain on earth is expected to continue next week. However, meteorologists predict hurricane-force storms for the summit area of Mount Everest starting Sunday evening. At an altitude of 7,000 meters, wind speeds of at least 80 kilometers per hour are expected – anything but good conditions for an ascent over the exposed West Ridge.
Kobusch is well advised to be doubly careful as he wants to climb without a breathing mask. The lack of oxygen leads to increased breathing. This causes dehydration, the metabolism hardly works, the extremities are supplied only insufficiently. This increases the risk of frostbite on fingers and toes. If in addition strong wind cools your body, it can be quickly over with your extremities.
Permits picked up
The Spaniard Alex Txikon has meanwhile arrived in Nepal to tackle Everest for the third time in winter after his failed expeditions in 2017 and 2018. Txikon and Co. picked up their permits for Everest and the 6,812-meter-high Ama Dablam, which they want to climb in preparation, at the Nepalese Ministry of Tourism today. Like Kobusch, Txikon also wants to climb without bottled oxygen on Mount Everest, but unlike Jost, he plans to do it in a team and via the normal route on the south side of the mountain.
Broad Peak: Way to camp 2 prepared
In the Karakoram, the winter teams on the eight-thousanders are reporting progress. On Broad Peak, Denis Urubko and Don Bowie returned to base camp after two days of "hard work", as Denis let us know. According to Urubko, he reached an altitude of 6,200 meters: "The road to Camp 2 is open, we are happy."
G I: Stopped by crevasse
On Gasherbrum I, South Tyrolean Tamara Lunger and Italian Simone Moro have been fighting their way through the icefall above the base camp in the past few days. "We still managed to steal a few more hundred meters by crossing dangerous bridges of ice, jumping crevasses, consuming nerves and liver to advance," Simone wrote on Facebook. However, they were stopped by a wide crevasse, which cuts across the entire glacier lengthwise and can only be crossed with a ladder. They wanted to pick up a sufficiently long ladder, which Moro says he discovered while trekking to the base camp near a military camp on the Abruzzi Glacier.
Trekking to K2
The Nepalese expedition leader Mingma Gyalje Sherpa and his six companions, who want to achieve the first winter ascent of K2, intend to set off from Skardu tomorrow Sunday in the direction of the second highest mountain on earth. According to his own words, Mingma wants to try to climb the 8,611-meter-high K2 without bottled oxygen.
Update 12 January: According to his GPS tracker Jost Kobusch returned to base camp today.