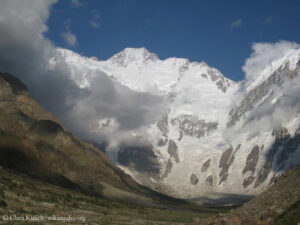 The first fatality of the summer season on the five eight-thousanders of Pakistan is reported from Nanga Parbat. According to Polish media, Polish climber Pawel Kopec died in Camp 4 at about 7,300 meters, apparently dehydrated and suffering from high altitude sickness. On Sunday, he – like his compatriots Piotr Krzyzowski and Waldemar Kowalewski – had reached the summit at 8,125 meters without bottled oxygen. During the descent, the 38-year-old became weaker and weaker, according to Kowalewski.
Pakistani stranded in Camp 4
Meanwhile, in Camp 4, Pakistani climber Asif Bhatti is waiting for rescue. According to the Alpine Club of Pakistan, he became snow-blind during the ascent and is unable to descend on his own. He is now to be guided down to an altitude of around 6,500 meters, from where he is to be taken off the mountain by rescue helicopter.
Anja Blacha's third eight-thousander without breathing mask
The Pakistani newspaper "Dawn" reports that on Sunday more than 50 climbers reached the summit of Nanga Parbat. Among them was the German Anja Blacha. According to the Nepalese expedition operator Seven Summit Treks, the 33-year-old reached the highest point without bottled oxygen and without Sherpa companion.
In 2019, Anja had also reached the summits of K2 and Broad Peak without breathing mask. Furthermore she scaled – with bottled oxygen – Mount Everest twice: in 2017 from the Tibetan north side and in 2021 from the Nepalese south side.
At the turn of 2019/20, Anja Blacha hiked 1,381 kilometers on skis – solo and unsupported – from the edge of Antarctica to the South Pole.
Update 4 July: Azerbaijani climber Israfil Ashurly guided snow-blind Pakistani Asif Bhatti down to Camp 3 at around 6,800 meters. The rescue helicopter could not take off on Tuesday due to bad weather. Rescuers approach from below with supplies.
Update 5 July: Bad weather continues to delay the rescue of snow-blind Pakistani climber Asif Bhatti. The goal now is to at least get the weakened Bhatti to Camp 2 at around 6,100 meters. It is a race against time.
Update 6 July: Happy end on Nanga Parbat. With the help of the Azerbaijani climber Israfil Ashurly (he renounced his summit attempt) and the Pakistani rescuers Fazal Ali and Muhammad Younis, it was possible to escort the severely weakened and snow-blind Paikstan Asif Bhatti down to base camp. He is now to be taken to Skardu by rescue helicopter.