Is the first winter ascent of the second highest mountain on earth imminent? Tomorrow, Saturday, there will be at least an attempt by Nepalese climbers to reach the 8,611-meter-high summit of K2. "We three Mingma(s) made it to Camp 4 on K2," Mingma Gyalje Sherpa announced on Instagram today. According to his words, Sona Sherpa had turned back 30 meters below the camp because he had run out of rope and other gear. "We see the final route now," wrote the 34-year-old. A little later, Nirmal Purja praised via Instagram the "combined effort from the teams" and announced: "Later today, I will be leading the fixing team to the summit. We hope to stand on the summit together."
Yesterday, Mingma Gyalje Sherpa had promised that he and his Nepali "brothers" would make the nation proud. The list of winter first ascents of eight-thousanders has so far lacked names of Nepali climbers, which is seen as a blemish in the Himalayan state. "I do feel ashamed to say we have eight out of these 14 peaks in Nepal and no Nepalese on the list of the first winter ascenders," Mingma Gyalje told me before his failed K2 winter attempt in January 2020.
New winter altitude record
The three Mingmas who reached Camp 4 on the so-called "Shoulder" of K2 today include, aside from Mingma Gyalje Sherpa, Mingma David Sherpa and Mingma Tenzi Sherpa from Nirmal "Nims" Purja's team. According to Nims, Camp 4 is at 7,800 meters. If the information is correct, the Nepalese have already set a new winter altitude record. Never before had a climber reached a higher altitude than Denis Urubko and Marcin Kaczkan in 2003 during the cold season on K2: The Russian and the Pole climbed up to 7,650 meters on the Chinese north side of the mountain.
Concentrated 8000er experience
From Thursday to Friday, ten Nepalese climbers had spent the night in Camp 3 – concentrated eight-thousander experience, as the look at the three Mingmas and Nirmal Purja alone shows. Nims, a former soldier in the British Gurkha Regiment, made headlines around the world in 2019 when he scaled all 14 eight-thousanders in just over six months – with bottled oxygen and a strong Sherpa team behind him. In total, the 37-year-old has stood on eight-thousander summits 20 times so far, four times on Mount Everest alone.
Mingma Gyalje Sherpa can look back on a total of 21 eight-thousander summit successes. He has summited 13 of the 14 eight-thousanders, twelve of them without bottled oxygen. Only Shishapangma is still missing in his collection. Five times Mingma stood – with breathing mask – on the summit of Everest, twice on the summit of K2: in 2014 without, in 2017 with bottled oxygen. This time he wants to try it again without breathing mask, the 34-year-old had announced before the start of the expedition – incidentally as the only one of the Nepalese climbers.
Three times on K2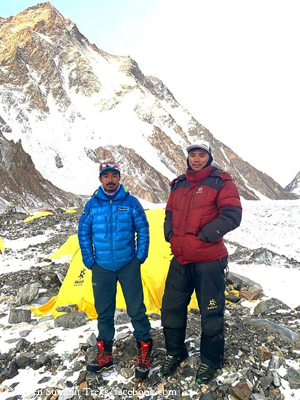 Mingma David Sherpa from Nims' team has scaled all 14 eight-thousanders, eight of them together with Nirmal Purja. In total, the 31-year-old has so far collected 22 summit successes on the 14 highest mountains. He has stood on Everest seven times alone, and three times – in 2014, 2018 and 2019 – on K2. Mingma Tenzi Sherpa can also look back on plenty of experience on the second highest mountain on earth. The "high-altitude machine," as his expedition leader Purja called him recently, tackled K2 in vain in 2009, 2015 and 2016 before he achieved the much-awaited success in 2018. The 36-year-old has so far scaled nine of the 14 eight-thousanders.
No less impressive are the many summit successes of the other six Nepalese who had now joined forces to push the route further: Dawa Tenzing Sherpa and Kilu Pemba Sherpa from Mingma Gyalje's team, Dawa Temba Sherpa and Pemchhiri Sherpa from Nims' team, and Sona Sherpa from Seven Summit Treks' team. For example, Pemchhiri reached the summit of Mount Everest 14 times, and Dawa Tenzing eleven times. 
Good weather conditions on Saturday
So it won't be due to a lack of eight-thousander experience if the K2 summit attempt out of this strong group fails. Probably not because of the weather either: the meteorologists are still predicting calm winter weather with very little wind for tomorrow. From Sunday, however, it is supposed to become much less comfortable. As a possible summit day is actually only Saturday in question and then: as quickly as possible down!